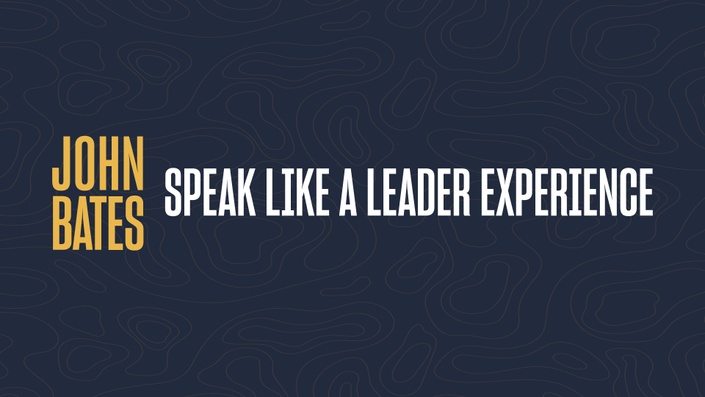 Speak Like a Leader Experience - Begins September 16, 2021
Craft your story and develop your voice in the Speak Like a Leader Experience; Create Your TED-Like Talk.
Enroll in Course
"Speak Like a Leader Experience"
This LIVE interactive
program is for speakers, executives, influencers, leaders, and anyone who understands that the difference they can make starts with the quality of their communication.
John Bates has designed his programs using principles derived from neurobiology so your communication is as mighty as your ideas. This program is limited to a maximum of 8 participants.
We begin our 10 LIVE sessions on:
Thursday, September 9th, 2021 from 1:00 pm - 2:00 pm Mountain time and they repeat at that same time weekly.
In the final session - which will be extended to 90 minutes, we invite you to present your well-chosen, well-crafted, and well delivered TED-like talk, to be recorded in Zoom.
This is a very special, transformative experience for everyone who participates.
---
You're on stage and people are breathless. They're leaning in and hanging on your every word. Your initial fear has turned to excitement and you're fully present in the moment. The air crackles with electricity as the audience embraces your ideas. And now, as you say "thank you," the audience leaps to their feet as one. The applause is deafening. You did it. You did the work and you have become the person this idea needed you to be. People are already lining up to talk to you. Congratulations!
To deliver a TED-like talk demands something of you. And, to do it the way it is meant to be done turns out to be one of the best leadership and life exercises that you could ever do.
Over the last decade, as one of the most prolific TED-format coaches in the world, I have developed my own take on the TED-like talk format and I have come to realize that to succeed with the 18-minute - or less, free form, TED-talk format demands a very special blend of characteristics. To create a TED-like talk that truly works, and which is done the way it is meant to be done, requires you to be:
Succinct - A TED-like talk is 18 minutes or less! So, your talk needs to be well crafted and rhetorically sharp. You'll need a technical understanding of narrative flow, language, rhetoric, communication, and emotional connection to really land it.
Vulnerable - You can't just share how awesome you are. To truly deliver you must have faced, and faced down, your demons and acknowledge the role they have played in honing you and your ideas.
Personal - Your message, your leadership, and your contribution is inextricably tied to your own journey and mission. That requires you to genuinely know and embrace your origin story, your journey, and your personal connection to all of this.
Authentic - Your talk must be fully aligned with your values, your principles and be delivered in your own personal style. You'll need to dig deep into who you are, what you stand for, and what matters to you. Even if you already know, this will require something of you.
Ultra-CLEAR - Finally, to succeed, you must be focused and unequivocal. You will have to wrestle with yourself and utterly clarify your "one idea worth spreading." What changes do you want to affect and why is that so important to you?
It's an amazing journey, and very worthwhile. You will need well-chosen, well-crafted, and well-delivered stories which flesh out your talk and illuminate your vision. Taken all together, this presents a singularly useful opportunity to create a path-defining speech, and at the same time, it demands a personal transformation in order to become the leader that the talk needs you to be.
This is one of the most incredible, powerful, and transformative journeys you could take, as a leader, executive, influencer, and anyone who is out to make a real difference in the world and who understands that the quality of their leadership is directly proportional to the quality of their communication.
When you invest in the course we will invest in you and you will be invited into a community of other leaders who are committed to transforming the World.
If you're ready for this, register now. If you'd like to know more, please read on!
---
John Bates' mission is to bring out what is awesome inside you, so it can live in the world and make a real difference... <br>These programs are designed using neurobiology-based principles so your communication is as mighty as your ideas.
These principles are immediately actionable, inherently memorable, and are easily applied to your unique style of speaking, managing, and leading.

If being influential is important to you and your goals, this course will be one of the best you ever attend. If you bring your notebook, beginner's mind, and your most important goals and objectives, you will leave inspired and ready to take action.
PROGRAM DETAILS
Starts: September 9th, 2021 from 1:00 pm to 2:00 pm, repeating for a total of 10 sessions. The last session will be extended to 90 minutes.
Duration: Every Thursday for 10 Weeks
Cost: $3,000
Participant Limit: 8 people
Who This is For: Anyone who wants to develop their TED-Like Talk
What You Will Create in This Course:
You will create and deliver your TED-Like talk. In the final session, we will record your TED-like talk via Zoom.
What We Will Cover:
Your Origin Story

Storytelling

How to Connect to Your Audience

Neurobiology of Communication Opening and Closing

I VS You

Stage Presence

How to Land Your Message

How to Practice

Making the Most of Feedback
Your Instructor
You are in good hands with John Bates. He has vast and successful experience as one of the most prolific trainers and coaches in the TED-Format, as a keynote speaker and leader himself. He also provides 1:1 executive coaching to top executives and leaders at many top global organizations. Because his training is uniquely based in human evolutionary biology and neurophysiology you get principles that are immediately actionable and which you can apply to your own individual style. John brings you far more effectiveness, influence and dramatically amplifies your success, because his training is principles based and it goes deep. John has coached hundreds of TED and TEDx speakers and supported thousands of leaders, executives and difference makers in the TED-Format. He created this "Free TEDx Tips" mini-course to help people understand the ins and outs of speaking at TED & TEDx, along with some useful guidance in general. Due to popular demand he also brought his full course: The Speak Like A Leader Bootcamp online, as well. John currently supports top leaders, C-level executives & entrepreneurs at NASA, IBM, Boston Scientific, Johnson & Johnson Innovations JLABS, and many others, in his unique leadership communication principles; allowing them to show leadership and calm while motivating their employees via great storytelling, leadership presence and an understanding of the actual science underlying excellent communication.
Course Curriculum
Unit 2 Be TED-worthy
Available in days
days after you enroll
Unit 3 High Leverage Communication
Available in days
days after you enroll
Frequently Asked Questions
How long do I have access to the course?
How does lifetime access sound? After enrolling, you have unlimited access to this course for as long as you like - across any and all devices you own for as long as we're around.
What if I am unhappy with the course?
We would never want you to be unhappy! If you are unsatisfied with your purchase, contact us in the first 30 days and we will give you a full refund.