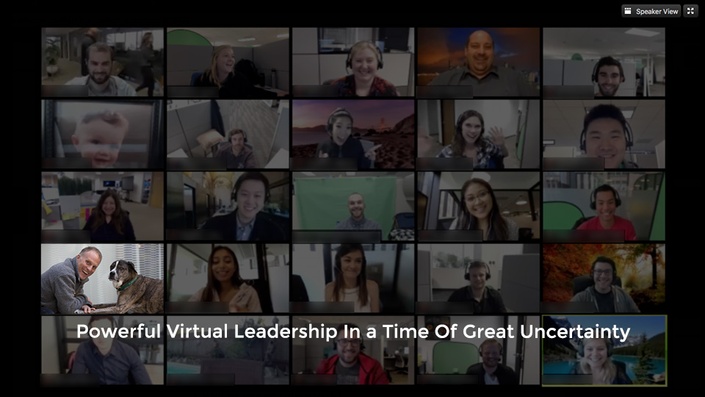 Powerful Virtual Leadership with John Bates - Live Course Begins September 22nd. 2020
POWERFUL VIRTUAL LEADERSHIP IN A TIME OF GREAT UNCERTAINTY
September 22nd - October 2nd, 2020

Four 60 minute LIVE Zoom Courses on Tuesdays & Thursdays
PLUS! Four FREE LIVE BONUS Ask Me Anything Q&A Zoom calls on Wednesdays & Fridays
All sessions will be recorded and available to you online after the live sessions.
---
Become a forward-thinking strategic virtual leader in this course.
Has COVID left you asking yourself these leadership questions? How do I successfully lead a virtual team? How do I keep my virtual team motivated and working together? During a crisis what really matters and how do I show support and provide structure? How do I build a relationship with my clients using only virtual tools?
Join John Bates, founder of Executive Speaking Success, in this highly interactive leadership training. John's mission is for you to clear out the confusion and fear of today's changing world and to support you into being the leader you always knew you could be.
What you will learn:
High-level strategic thinking:
Define your leadership style for the long game
Discover your executive presence online
Preparing your team/company/clients for the future of virtual team communication
Building a shared purpose among people of different ages, skill sets, and backgrounds
Become a better leader, strengthen your team and transform the experience of working virtually
Principles of authentic, insightful leadership:
Discover 3 ways to connect and inspire anyone, anywhere, any time
Leadership using the power of Insightful Vulnerability©
Build the only credibility that matters in times of crisis, Emotional Credibility©
Create your Empowering Context - What drives and inspires you.
How to keep your team productive:
Managing virtual teams productively
Leading confidently in times of crisis and anxiety
Leading great virtual meetings where you are engaging and relating to your team
Your invites will come to the email address you use to register for this course
---
FREE LIVE BONUS Ask Me Anything Q&A Zoom CALLS on Wednesdays and Fridays

This will be your opportunity to discuss, explore, and practice the content of the sessions. You are encouraged to ask John Bates any leadership and communications questions that you might be struggling with. There is also the potential of special guest appearances in these BONUS calls.

All sessions will be recorded and available to you online.

Have Questions
Please email Lei Roscom: [email protected]

Your Instructor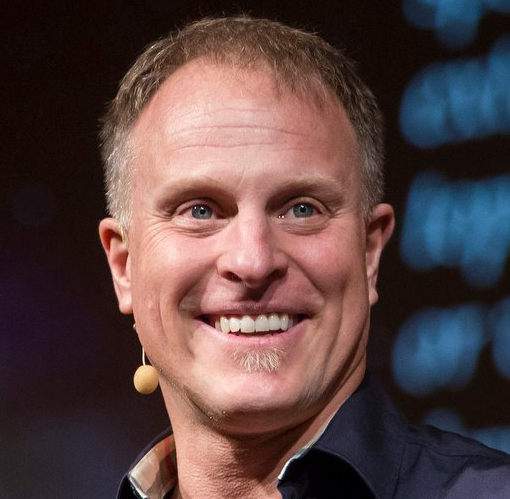 You are in good hands with John Bates. He has vast and successful experience as one of the most prolific trainers and coaches in the TED-Format, as a keynote speaker and leader himself. He also provides 1:1 executive coaching to top executives and leaders at many top global organizations. Because his training is uniquely based in human evolutionary biology and neurophysiology you get principles that are immediately actionable and which you can apply to your own individual style.
John brings you far more effectiveness, influence and dramatically amplifies your success, because his training is principles based and it goes deep. John has coached hundreds of TED and TEDx speakers and supported thousands of leaders, executives and difference makers in the TED-Format. He created this "Free TEDx Tips" mini-course to help people understand the ins and outs of speaking at TED & TEDx, along with some useful guidance in general. Due to popular demand he also brought his full course: The Speak Like A Leader Bootcamp online, as well. John currently supports top leaders, C-level executives & entrepreneurs at NASA, IBM, Boston Scientific, Johnson & Johnson Innovations JLABS, and many others, in his unique leadership communication principles; allowing them to show leadership and calm while motivating their employees via great storytelling, leadership presence and an understanding of the actual science underlying excellent communication.
Course Schedule
4 Course Sessions + 4 Ask Me Anything Q&A Sessions
September 22nd: Session 1 - NOW, Immediate Concerns & The Near Future
Much has changed quickly. We have been fast-forwarded into the digital future. Excellent leadership is more important now than ever. How do you show up as your best, online? What are some of the key things to keep in mind as the horizon keeps receding? John will share what he sees that is working across the world.
September 23rd: BONUS Session - Ask Me Anything Session
September 24th: Session 2 - Leadership with Heart and Inspiration, Distributed Teams and Increased Productivity
Some businesses are dying, some surviving and others thriving. How can you make the most of this fluid situation? John offers insight and strategies for keeping yourself and your team productive and engaged.
September 25th: BONUS Session - Ask Me Anything Session
September 29th: Session 3 - The Distant Future, Lemons from Lemonade, and Leading People There
Much that has changed will remain changed. As much as we hate the phrase, this is a preview of the new normal. What are you doing to adjust to the changes, inspire yourself, your team, and your clients and how do you use your influence to shape the future?
September 30th: BONUS Session - Ask Me Anything Session
October 1st: Session 4 - Building the Lessons Learned Into The Future You're Creating
We will discuss what you're taking away with you, how you can implement the things we've discussed, and how to make sure that the insights you've had are translated into ongoing action as you continue to shape the future.
October 2nd: BONUS Session - Ask Me Anything Session
You will have access to the recordings of every meeting, as well.